Community makes up who we are. As an association, our members and affiliates desire to invest in their communities: local, regional, state, and national. KAAR strives to provide opportunities and resources for our members to do just that.
The 8th Annual Habitat for Humanity Sporting Clays Tournament is March 24. With your help, the tournament will support Habitat for Heroes, Knoxville Habitat's program to build and repair homes for our local veterans. Volunteers are needed throughout the day. Volunteer by clicking the button below.
REALTORS are Good Neighbors
Every year, the National Association of REALTORS® hosts a week of volunteering as a part of their REALTORS® are Good Neighbors program.

This year, REALTOR® Volunteer Days are June 3-11, 2023. Projects to get involved with during Volunteer Days will be posted closer to date. To get an idea of what Volunteer Days looks like, you can view last years schedule shown below.
June 4: Dragon Boat Festival
PADDLES UP! Join Knox Area Rescue Ministries (KARM) in celebrating its 18th Annual Dragon Boat Festival on the Cove at Concord Park on Saturday, June 4, 2022. It's a great opportunity for you to make an impact in the lives of the least of these in our community.
Practice Week Volunteers – Tuesday, May 31, Wednesday, June 1st from 4:30-9pm.  Helping teams on and off boats, tracking score of practice races.
Event Photographer (all shifts)
Kids area volunteers 12-4pm
Lunch Tent 10-2pm
Runners – bring teams to waterfront when it's their turn to race 1-4pm
Unloaders (assist unloading teams vehicles and using golf cart to bring items to tents) 6-8am
June 10: Emerald Youth Foundation
June 11: Ukrainian Care Packages
Since 2010, KAAR has supported the children of Youth Villages through the Backpack Heroes initiative. Over that time, KAAR's members have provided backpacks completely filled with school supplies for over 3,500 children. That totals over $175,000 in generous donations. Money for this program is raised through the Birdies for Backpacks Golf Tournament. You can read more about KAAR's involvement with Youth Villages HERE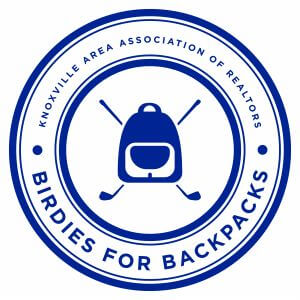 Our 5th Annual Birdies for Backpacks Golf Tournament will be Friday, April 14, 2023 at Egwani Farms Golf Course. More information about the tournament and how to register will be provided closer to the tournament date.
Birdies for Backpacks raises $15,000 each year to fund the Backpack Heroes program at Youth Villages. This program provides backpacks and school supplies to children in need across East Tennessee. Because of your support, 300-400 fully supplied backpacks will be provided for students from Chattanooga, all the way to Johnson City, Tennessee.
Increasing Literacy with Little Libraries
In 2021, only 40% of Knox County students were reading on grade level by the third grade. The Knoxville Area Association of REALTORS partnered with Read City USA as a part of an October and November community involvement initiative.
KAAR members built 13 Little Free Libraries that were installed in the 12 county region that KAAR serves. Brokerages and agents sponsored the libraries and continue to monitor them, keeping them stocked and maintained.
Check out the article from KnoxTN Today: Jacobs Thanks KAAR for Reading Boost
This year (2023), KAAR is once again building Little Free Libraries that will be placed around our 12 county region.
Refugee Children Christmas Donations
This past December, KAAR is partnered with
Bridge Refugee Services
to provide Christmas gifts for refugee children in Knoxville. Over 200 gifts were donated and wrapped by KAAR members and staff. Bridge aims to provide opportunities for refugees to rebuild their lives after suffering persecution so that they may become productive, contributing members of the community.
View this post on Instagram

Market Pulse Survey – Q4 2022 The Market Pulse Survey gathers on-the-ground information about local market conditions from members of the Knoxville Area Association of REALTORS® based on their client interactions and real estate transactions in the previous three months. Key Findings Both buyer and seller traffic declined in the fourth quarter. 68% of respondents…